On the 6th of May, WeCycle hosted a Community Action day as part of the multi-day SHORE in NARRM project (Melbourne) an installation of four equal parts; Community Action, Story, Performance and Feast.
For more about the project please visit the City of Melbourne website
Emily Johnson is a Bessie Award-winning choreographer and Guggenheim Fellow who makes body-based work. Originally from Alaska and now based in New York, she is of Yup'ik descent, and since 1998 has created work with her company – Emily Johnson/Catalyst – that considers the experience of sensing and seeing performance.
The Community Action Day commenced with a acknowledgment of country.
Emily Johnson then provided a background of SHORE in NAARM and invited the participants to get to work on the bicycles.
Volunteers were guided by the WeCycle team through the various work stations either washing the bikes, pumping tyres and patching tubes, stripping irreparable bikes for parts, assessing bikes against the checklist, adjusting brakes and generally bringing the bicycles up to good condition.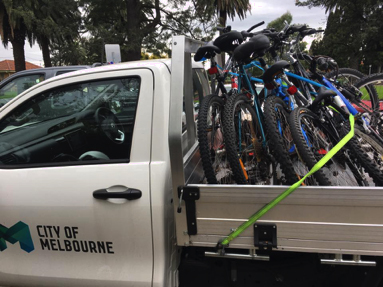 Five completed bicycles were then taken by the Arts House team to St Joseph's Flexible Learning Centre to hand over to the school at the second Community Action Day being held on the Sunday. This Community Action Day involved developing a school garden, planting around the playground and painting of some outdoor areas.
We would like to express our appreciation and gratitude to all those who participated in this productive and engaging session that captured the SHORE project's intention of "A gathering; a merging of art and life, history and movement; a meditation on places of belonging – SHORE in NARRM: Community Action literally (re)connects people to country around them."
Many thanks to Arts House, City of Melbourne for inviting WeCycle to be a part of this Yirramboi First Nations Arts Festival project.
Emily Johnson speaks to Patricia Karvelas, ABC National about her day spent with WeCycle on Saturday, 6 May as part of the SHORE in Narrm Project .
Originally from Alaska, Emily is of Yup'ik and based in Minneapolis and New York. Emily is an artist who makes body-based work
SHORE in NARRM (Melbourne) is a multi-day performance installation of four equal parts: Community Action, Story, Performance and Feast.
Click Below To Listen